Confessions of a Wallpaper Nerd…..
Monday, May 14 2012
I love wallpaper.
I love that wallpaper can make a room so unique. I love that wallpaper can make such a statement, and often be the only art the wall needs. I love that using wallpaper can give a client such a personalized look; it is unlikely that they will walk into someone else's home and see a powder room with the same design.
While working on a renovation recently, a client was open to the idea of wallpapering her Powder Room. She said she would leave it up to me, and that she was open to something fabulous and unexpected. That was like giving me the keys to a candy store and telling me to grab anything I wanted! I started the process of shopping for her Powder Room, and came across not only some amazing papers for her, but other drool-worthy designs as well.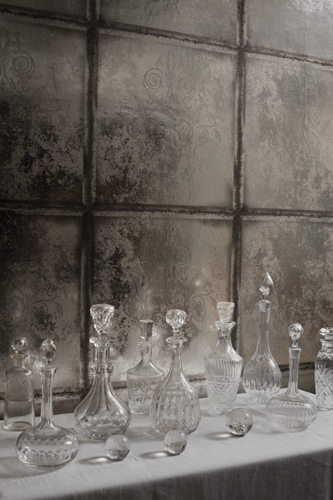 Above is "Albery" from the Albermarle collection from Cole & Son. It is designed to look like panels of antiqued mirror. This gets my heart racing. I could imagine using this is a Dining Room, or even in my client's Powder Room (she liked this one).
Below is another beauty from Cole & Son, called "Baudelaire". I love the enlarged damask in the color of the moment , which makes it more modern and glamorous.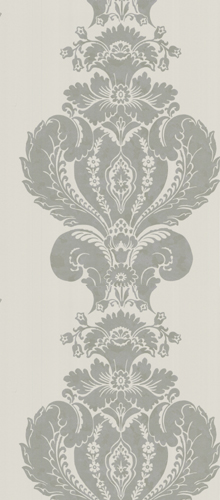 When I received a sample of "Porcelain" (below) also from Cole & Sons in the mail, I pinned it up on my office wall because I couldn't take my eyes off of it. It is completely opposite from the above designs. It is traditional, and so classic. This is being filed in my sample library in the hopes that I will be able to use it on a future project. Breakfast room anyone?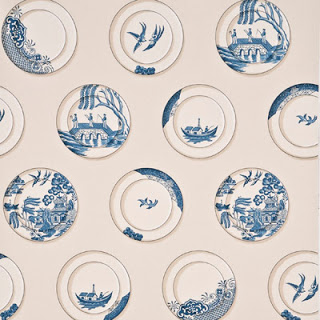 I could go on and on giving examples of the wallpapers I love. Just one more......
I came across "Chenonceau" from Schumacher while working on a project a few years ago and was lucky enough to be working with clients that had vision, and were trusting enough to let me talk them into using this is their powder room. Their home was architecturally traditionally however I was hired to make their traditional interiors more transitional. I thought this would be a great wallpaper for them; it had the elements of a traditional print (botanicals, birds,etc) yet the stark color contrast and dark charcoal made it modern. Below is their finished Powder Room .